Perfect Plaids
---
Don't you just think there's something about this time of year that makes you want to start settling down and cuddling up?  All of a sudden, fires and warm blankets seem a lot more inviting than pools and beach towels, and boots become a much better option than sandals.  Now, try to associate that feeling with a fabric.
What do you think of?  Is it plaid?  That's what I thought.
While there are some "summer plaids" that do exist in the world, my guess is that in general when you think of plaid fabrics you associate them with things like wool, crisp air, mountain retreats, and, maybe, even Pumpkin Spice lattes.
Plaids are fantastic fabrics that can be used to warm up a cold space and contribute a needed pattern, and at the same time incorporate and bring out the other colors in the room.  It can be dressed up for a classy hunting lodge feel, or dressed down for a rambling mountain cabin.  You can use it in bedding, upholstery, wall covering, window treatments, accessories and just about anything else you could think of.  When it comes right down to it, plaid seems to be the Jack Of All Fabrics.
Here are some great ideas on using "winter plaids" that really show how versatile this print can be.
Plaid Bedding: 
I love the colors on this pillow, they look so fresh but still warm!
The greens and browns here compliment the reclaimed headboard and create a unique combination that looks fashionable and comfortable.
This traditional plaid bedding is perfect for a cabin, lodge, camp, or any sort of mountain escape!
Plaid Windows and Floors:
The dark plaid drapes and walls provide a beautiful contrast to the white trim and furniture, while the yellow arm chair creates a great focal pop of color and style.
What do you think about this custom plaid tile?  The combination of fixtures, finishes and accessories look so classy in this powder room!
Plaid Furniture and Upholstery:
This little porch looks all set up for an apres-ski snack!  Winter wonderland!
I love the combination of this masculine patterned plaid headboard with the more feminine touches in the lamp, pillows and picture frame here.  This just looks like a bedroom where you could sleep late whenever you wanted!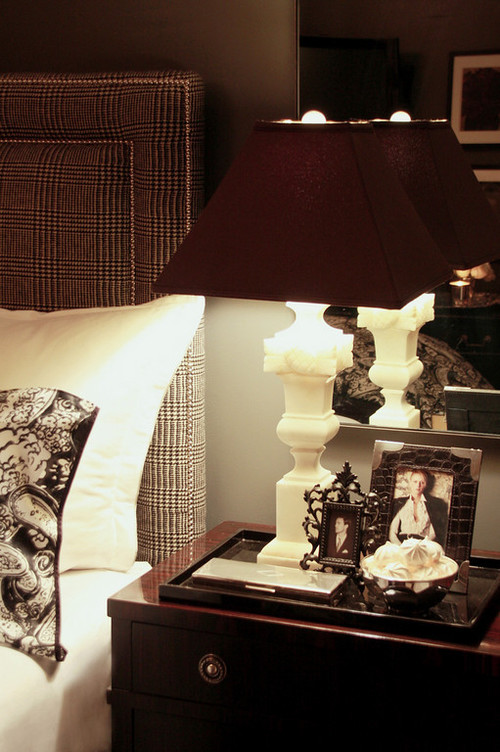 Here's another great piece for your lodge style cabin- great to put your feet up after those long days of skiing, fishing, hunting, or just reading and lounging!
Oooh this chair with the dark wood paneled walls!  Enough said!
I hope this post has helped launch you into the "fall spirit"!  For more seasonal design inspiration, follow us on Pinterest, or like us on Facebook to have design ideas sent straight to your wall each day!  Happy Fall Everyone!