So I missed a week or two on the color posts, sorry about that!  I was pretty excited to share the Lodge Design post, and kind of forgot about our new Friday color tradition!  Oops!  Well, here we are again, back on track, and today we are going to be talking about yellow!  Yellow has many shades, many connotations, and many names.  Yellow is generally associated with happiness, joy and summertime, and the sun itself (which I am really missing right now), is yellow!  The names of the shades are just as beautiful as the shades themselves: goldenrod, lemon, mustard, wheat. There are so many ways to bring yellows and golds into your home design, and like our post on green, we are going to focus on the best of the ways to do it!
A small pop of bold yellow can be a welcome surprise in an otherwise neutral room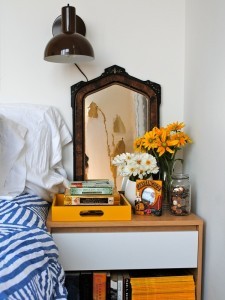 If you want to go all out and make a huge statement, yellow paint or wallpaper can be a great way to accomplish that!
In a more rustic space, use pine to bring in the yellow tones.
Softer yellows help create light and airy summertime spaces!
Well that wraps up this week's color post- did you gain any new inspirations?  How do you plan on using yellow in your own home now that summer is on it's way?  What color will we think of next?  Stay tuned to find out!
Until next week,  follow us on Pinterest to see all of our color inspirations!  You can also like us on Facebook and Houzz to stay up to date with our projects and design ideas!